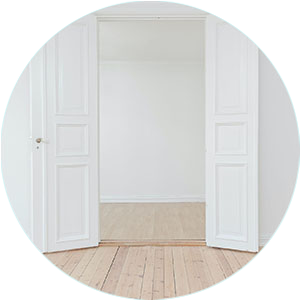 moveout cleaning and hourly assistance
This is the service for you if you're moving in or out of a space OR if you have odd jobs or deep cleaning to do. For odd jobs and deep cleaning, please determine your budget and book accordingly. Our staff can be booked up to 5.5 hours at a time. After that, they need a break. If you need more time, book additional appointments (or two smaller ones), or add time with a different staff or on a different day.
For moveouts, it is IMPERATIVE that you allow plenty of time for cleaning. Most inexperienced folks grossly underestimate the time and effort involed in a moveout. Here is our suggestion on how to estimate the amount of time your home will take for a proper cleaning, followed by our booking calendar:
1
Allow 3 hours for your kitchen. Haven't ever cleaned the inside of your fridge or oven? Allow 4.5 hours instead.
2
Allow 2 hours for each full bathroom. Allow 1 hour for each bathroom that is only a sink and toilet.
3
Do most of your floors require mopping? Add 1 hour.
4
What's you total so far? If you've never hired professional cleaners OR given it a good thorough deep clean yourself, multiply your result by 1.5.
need help calculating?
We will be happy to provide an estimate for you. Just have us come by for a consultation.
what to expect
We will ask you for a SPECIFIC to-do list, ordered by priority. This is crucial. Will the place be painted? Then we don't need to focus on spot cleaning walls. Will appliances be replaced? Then we don't want to waste time cleaning them. We will go through your list top to bottom and do everything we can in the time allotted. IF we discover that we are going to run out of time, we will communicate with you as soon as possible. Because you provided us with a list in order of priority, the most important things will be done first!
If your oven interior is to be cleaned, we REQUIRE that you run the self-clean feature at least one day prior to our arrival. If that has not been done, we will run it before we leave, but there will not be time to follow up, as it takes several hours for the cycle to run and then to cool enough to be touched. If your oven does not have this feature, we may require extra time, depending on how dirty it is.
PLEASE do not schedule us to come before or during the time you'll have the repair person, movers or window washers. We will not go into cabinet interiors or fridges that have not been emptied unless you want to pay us to throw these items away. Be completely moved out and have all repairs done BEFORE we arrive. Schedule the carpet cleaners for AFTER we clean.
We do not clean carpets or windows or exteriors. We will not handle human or animal waste other than cleaning the toilet. Please make sure there is toilet paper and a toilet brush. For sanitation reasons, we do not carry these around.
You may need to book more than one appointment. If available, multiple staff can be booked at the same time by setting multiple appointments in the same day or over a few days. We hope you didn't procrastinate!
Here is a common list of expectations. We expect you to be this detailed when you provide your list. if you need to, copy and paste this list and modify as needed.
Kitchen
Counters and sinks are completely clean and streak-free and faucet is polished.
Clean cabinet doors and drawer fronts all the way down to the floor.
Cabinet and drawer interiors are dusted and cleanded.
Appliance exteriors cleaned. Stainless steel is polished and streak-free.
Appliance interiors cleaned.
Yellow or brown spots on the stovetop scrubbed/removed. We will do our best with black, cooked on spot. Older stovetops may be left with some black spots.
Bathrooms
Counters, sinks and mirrors are clean and streak-free and faucet is polished.
Cabinet doors and drawer fronts are cleaned.
Cabinet and drawer interiors are dusted and cleaned.
Entire toilet area is cleaned (including tank cover, entire outside of toilet down to the floor, bolts, lid hinges, inside of toilet, floor and baseboards around and behind the toilet).
Tub/shower surround, including grout, scrubbed clean.
NOTE: If the caulk around your tub is discolored black, it is likely stined from mildew and will not come clean. This is the result of water getting beneath the surface of the caulk, which requires stripping old caulk and re-caulking.
All tub/shower faucet and fixtures polished and spot/streak-free (including the underside of the faucet).
Entire tub/shower tray, including bottom, all edges and sides, as well as soap dishes are cleaned.
Glass shower doors are free of soap residue and are streak/spot-free.
NOTE: If glass door are very old and you have hard water, we cannot guarantee that all water haze will be removeable. We generally have good luck with this, but there are times when lack of upkeep has permanent results here.
Light fixtures, medicine cabinet (including top), and bathroom decor are dusted and free of cobwebs.
Bedrooms and Commons Areas
ALL horizontal surfaces that can be reached by hand (window sills, baseboards, etc.) are cleaned.
Corners of walls where they meet with the ceiling are free of cobwebs.
Floors
All interior floors are vacuumed, and all interior hard floors are mopped, and spots in hard floors are scrubbed by hand. We do not do anything with carpets other than vacuuming!
Kitchen and bathroom floors spot cleaned by hand where needed.
Please Note: We are not prepared for certain tasks, including outdoor work (hauling, landscaping), carpet cleaning, window washing, or handling of anything that could be hazardous, including human or animal fluids or waste. Our liability coverage prohibits us from working on any surface higher than a step ladder.