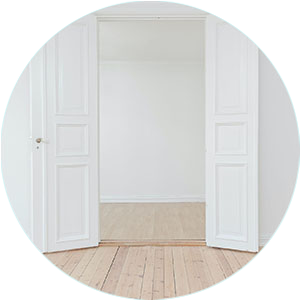 moveout cleaning
This is the service for you if you're moving in or out of a space. Our staff can be booked as a team for jobs over 5 hours or individually for smaller amounts of time. If you need lots of time, we recommend booking multiple appointments with different staff or on a multiple days. If you use the amount of time we recommend, we will *approve* your home for our detailed move-out checklist, which you can find at the bottom of the page. If you do not use the amount of time we recommend, your home will not be approved for our checklist, and you must require your own list of tasks in order of priority.
RATES
Answer a few questions for a hassle-free quote, and then see our availability.
Or, scroll down for an in-person consultation.
Would you like our input?
We would be delighted to meet you in person before you invite us to clean your home.
what to expect
If your oven interior is to be cleaned and has the capability, we REQUIRE that you run the self-clean feature at least one day prior to our arrival. If that has not been done, we will run it before we leave, but there will not be time to follow up, as it takes several hours for the cycle to run and the oven to cool enough to be touched. If your oven does not have this feature, we may require extra time, depending on how dirty it is.
PLEASE do not schedule us to come before or during the time you'll have the repair person, movers or window washers, or any other service providers. We will not go into cabinet interiors or fridges that have not been emptied unless you want to pay us to throw these items away. Be completely moved out and have all repairs done BEFORE we arrive. Schedule the carpet cleaners for AFTER we clean. If we are unable to work because the home is not ready to be cleaned, or because there are other service providers working, we will do our best to reschedule with you, and you will be charged a late reschedule fee.
We do not clean carpets or windows or exteriors. We will not handle human or animal waste other than cleaning the toilet. Please make sure there is toilet paper and a toilet brush. For sanitation reasons, we do not carry these around.
You may need to book more than one appointment. If available, multiple staff can be booked at the same time by setting multiple appointments in the same day or over a few days. We hope you didn't procrastinate!
Here is our move-out checklist. This is the same list our teams use. We will go by this ONLY if we *approve* your clean for full move-out service because you have booked the recommended amount of time.
KITCHEN
Counters are free of debris & streaks
Countertop items are clean and arranged neatly
Sink is sparkling and drain is free of debris
Faucet and knobs are clean and streak free
Window behind sink is clean
Backsplash is clean and grease-free
All cabinet and drawer fronts are clean
All cabinet and drawer interiors are clean and free of debris
Fridge interior is spotless
Floors underneath fridge are clean
Oven interior is clean and free of debris (yellow and brown spots removed, some black spots may remain for older units)
Floors underneath oven are clean
Cabinets and walls surrounding oven are clean
Vent hood is grease free
Stovetop is sparkling and areas under grates or electric top is spotless (we do not clean drip pans)
Floors are free of debris and clean
All baseboards and trim are free of dust and grime
No obvious cleanable spots on walls
LIVINGROOM & DINING ROOM
Window sills and tracks are free of debris and grime
Floors are free of debris and clean – hard floors are streak and footprint free
All baseboards and trim are free of dust and grime
No obvious cleanable spots on walls
BATHROOMS
Mirrors are spotless (including behind sink faucet)
Counters are free of debris and clean
Sinks are sparkling
All drains are free of hair and debris
Faucets are clean and streak free
Shower surround is free of debris and obvious spots
Highly reflective wall tile is free of water spots and soap scum (non-glossy tile will be spot cleaned
Glass shower doors are spotless
Ledges around bath tub are free of debris and clean
Tub is free of scum and debris
Faucets and knobs are clean and streak free
Toilet is spotless inside and out
Floor is free of debris and clean (including around the toilet)
Toilet paper and towel holders are dust free
All baseboards and trim are free of dust and grime
Cabinet doors and drawer covers are clean
Cabinet and drawer interiors and free of debris and grime
Trash is empty
BEDROOMS & OFFICES
Window sills and tracks are free of debris and grime
Floors are free of debris and clean – hard floors are streak and footprint free
All baseboards and trim are free of dust and grime
No obvious cleanable spots on walls
FINAL TOUCHES
Chocolate(s) tea(s) and card placed neatly on kitchen counter
ANYTHING in need of attention photographed and texted to client