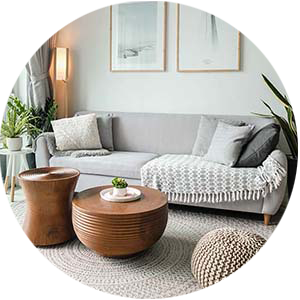 STANDARD HOME CLEANING SERVICES
Let us help you keep your home shining on a regular basis. This is the service for you if you want to keep up your existing standard of clean. If you need an initial deep clean, you will have to option to choose that. This is not the appropriate appointment type for a move-out clean.
RATES
Answer a few questions for a hassle-free quote, and then see our availability.
Or, scroll down for an in-person consultation.
would you like our input?
We would be delighted to meet you in person before you invite us to clean your home.
what to expect
This is a list of common client expectations for standard home cleaning service. When we enter a home with very little instruction, these are the tasks we focus on and can usually complete in the average home. This is not meant to be exhaustive. Please feel free to provide instructions if your expectations differ from what you find below.
PLEASE NOTE: For clients who are new and whose homes have not been cleaned recently (or simply are more *lived in*), we may not be able to achieve everything listed below in the time we allot for standard home cleaning service. If we find upon arrival that this may be the case, we will do everything we can to communicate with you as soon as possible to come to an agreed upon expectation.
Kitchen
Counters and sinks are completely clean and streak-free and faucet is polished.
Items on counters are neat, tidy, straightened and organized to create an appealing presentation.
Obvious dirty spots (large spills and fingerprints) on cabinet facings are spot-cleaned all the way down to the floor.
Stainless steel (including small appliances, trash cans and water kettles) are polished and streak-free.
Electric stove exterior cleaned, including knobs. Clean around drip pans, remove loose debris from drip pan.
Gas stove exterior cleaned, including underneath grates. Grates wiped down.
Yellow or brown spots on the stovetop scrubbed/removed.
Oven and other appliance exteriors cleaned.
Towels and dishcloths are trifolded and rehung.
Kitchen table washed, chairs dusted, and leg bottoms picked free of dust, debris, and pet hair.
Bathrooms
Counters, sinks and mirrors are clean and streak-free and faucet is polished.
Items on counter are neat, tidy, straightened and organized to create an appealing presentation.
Spot-clean obvious dirty spots (toothpaste, hair or makeup) on cabinet facings all the way down to the floor.
Entire toilet area is cleaned (including tank cover, entire outside of toilet down to the floor, bolts, lid hinges, inside of toilet, floor and baseboards around and behind the toilet).
Tub/shower surround spot cleaned (smudges of product, hair, etc.). Tile/grout scrubbing MUST be specified and will require extra time and cost.
All tub/shower faucet and fixtures polished and spot/streak-free (including the underside of the faucet).
Entire tub/shower tray, including bottom, all edges and sides, as well as soap dishes are cleaned.
Glass shower doors are free of soap residue and are streak/spot-free.
Towels are trifolded and arranged neatly.
Bathmats are shaken out and either hung neatly or replaced after vacuuming and mopping are complete.
Light fixtures, medicine cabinet (including top), towel racks, toilet paper holder, and bathroom decor are dusted and free of cobwebs.
All bathroom trash and recycling are gathered, consolidated with the kitchen trash, and fresh liners placed in the bathroom trashcans, if provided.
Bedrooms and Commons Areas
ALL horizontal surfaces that can be reached by hand are dusted.
Corners of walls where they meet with the ceiling are free of cobwebs.
Windowsills, stair rails, picture frames, etc. are dusted.
Surfaces that are very cluttered or that hold extra delicate items will be skipped or dusted around unless requested.
Items on top of dusted surfaces are replaced in a tidy manner and arranged intentionally.
Rooms are tidied, lap blankets folded, decorative pillows arranged in a tidy presentation.
Bed sheets are changed (if a spare set is left on the bed) and bed is made neatly.
Sheets and blankets are centered evenly on the beds.
Front/bottom of sheets and long layering blankets tucked underneath mattress.
Functional pillows are in the back or underneath, and decorative pillows are in front or on top. The final presentation of the bed is smooth, symmetrical, and tidy.
If no clean sheets available, bed is remade neatly with the current sheets.
All bedroom and commons area trash and recycling are gathered, consolidated with the kitchen trash, and fresh liners placed in the trashcans, if provided.
Floors
All interior floors are vacuumed, and all interior hard floors are mopped, including underneath easily moveable/small objects.
Kitchen and bathroom floors spot cleaned by hand where needed.
Pet beds either shaken out or vacuumed.
Hard floors underneath beds are vacuumed with hose to collect bunnies.
All area rugs are replaced neatly.
Kitchen trash, along with consolidated trash form the entire house, is taken out if it is more than half full. If it is half full or less, we do not take it out. Recycling and compost also taken out, where applicable.
EXTRAS
There are many things you can hire us on an hourly basis to help with. These include, but are not limited to:
Laundry:

washing
drying
folding
pick-up and delivery
putting away/organizing

Dishes
Deep clean items

baseboards
appliance interiors
scrubbing that bathroom tile that needs a bit of extra attention...

Spring cleaning projects

garage cleanout
organizing

Tidying
Please Note: We are not prepared for certain tasks, including outdoor work (hauling, landscaping), carpet cleaning, window washing, or handling of anything that could be hazardous, including human or animal fluids or waste. Our liability coverage prohibits us from working on any surface higher than a step ladder.