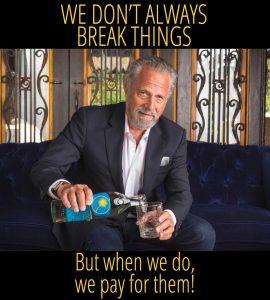 HERE'S THE TRUTH
We completely understand that inviting someone into your home to clean entails a great deal of trust. For the most part, things go off without a hitch. However, a company's defining moments are the tough ones. Here is why we've stood the test of time.
Our company runs on respect and honesty. Our team members know that in the rare case that something goes awry, they can rely on their leadership to back them up and support them. No one gets yelled at, and communication is prompt, professional, and fair, from admission of a mistake to the client to resolution. Questions are always encouraged here, and we find that because of our open company culture, there is a great deal of trust all around. Having been in the industry for a very long time, I know from firsthand experience and stories from others that many cleaning companies do not treat their team with the respect and care that we believe they deserve. Sometimes house cleaners fear punishment for making mistakes, or leadership possesses poor communication skills and lack of emotional regulation. At Dandelion, we know that we can only get through the tough stough successfully if we do it together.
When something needs attention, the team brings it to either leadership or the client, depending on whether they are home and what the issue is. Sometimes team members feel comfortable handling resolution themselves, and they are free to do so if it is appropriate. In the case that something requires repair or replecement, which is rare but realistic, we do our best to take care of it as quickly as possible.
While we haven't needed to use it yet (*knock on wood!*), we carry a hefty liability insurance policy. This protects your property and belongings! We are happy to share our proof of insurance with you if you would like to see it.